August was a Whirlwind!
Tuesday, September 4th, 2012 at 7:52 pm
This past month has been a whirlwind with lots of exciting things happening!
 >>  We visited friends and went to New York City the first week of August.
 >> We christened my niece and goddaughter Annabelle Whitfield Ertley in Atlanta on August 19th.
 >> The Downtown Catalyst Club held it's one year anniversary at Dos Gatos, and we had over 50 people attend the event.  The Jaguars gave away free tickets to the Jag vs. Falcons game to be held this Thursday night.
 >> I was named by the Jacksonville Business Journal as one of the Top 20 "Women of Influence" in 2012.  I'm so honored to be recognized as part of this incredible group of women.
 >> A couple of weeks ago we celebrated the retirement of John Haley with Jax USA.  I owe a lot of my success to his mentoring 10 years ago.  Good luck John!  Below is a photo from his retirement party.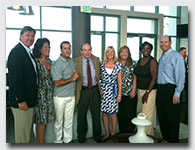 I'm also very happy school is back in session, so we can get back on a normal schedule!
 Football season is here!  Goooo Dawgs!!!!!
Filed under: Uncategorized
Like this post? Subscribe to my RSS feed and get loads more!