Upcoming Events!
Thursday, April 12th, 2012 at 5:43 pm
Save the following dates on your calendar for two exciting upcoming events. 
Downtown Catalyst Club
Next happy hour is Thursday, April 19th at 5:30 and will be a combined event with ULI.  It is a Downtown Pub Crawl starting at Burrito Gallery, then onto LIT, 1904 and finishing at Dos Gatos.
This is NAIOP's hottest new event and is open to non-members as well.  It is a progressive wine tasting at 5 of downtown's premier office towers.  The cost is $35 and includes the wine tastings and an after-party with the band Cloud 9.   It is from 4:00 – 8:30 on Thursday, April 26th.  For more info and to sign up, visit www.naiopnefl.com.  Sign up early, because space is limited and it will sell out!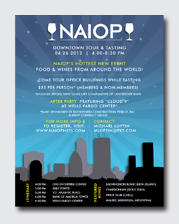 Filed under: Uncategorized
Like this post? Subscribe to my RSS feed and get loads more!